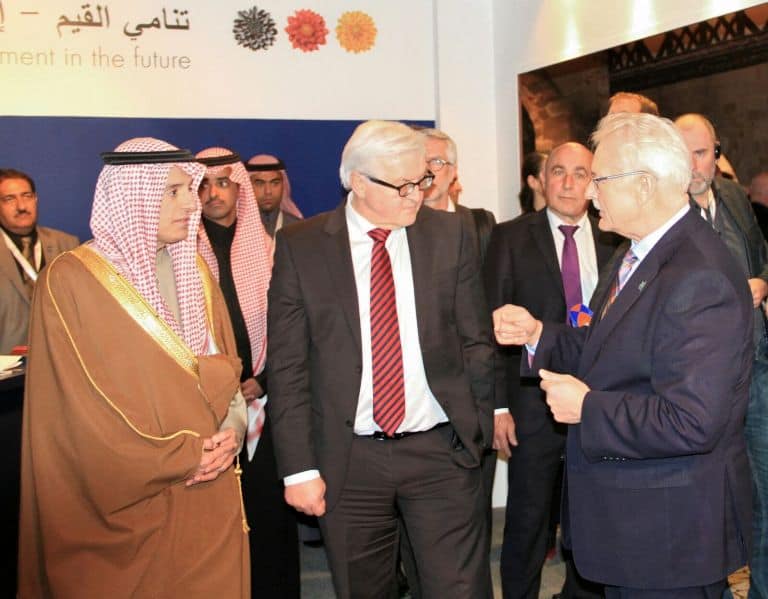 The presence of Germany as the guest of honor country at the Janadriyah national heritage and culture festival marked a new era in Saudi-German ties.
Riyadh, 02/20/2016
Modern, with a long standing tradition and innovative – this is how more than 400.000 visitors to the German pavilion experienced Germany from February 3rd to 19th, 2016. An entertaining cultural program as well as the diverse exhibition of German companies delighted the visitors.
Speaking to Arab News on the sideline of the fest, Detlef Daues, founder and CEO of V-LINE EUROPE GmbH, the only medium size company present at the German pavilion, said, "It is indeed an honor to be part of such a prestigious cultural festival. This represents an opportunity, where German companies including V-LINE could enable thousands of daily visitors to explore ideas and concepts 'Made in Germany' whether they are related to business, science or society and most importantly to demonstrate, how keen Germany is on partnering with the Kingdom of Saudi Arabia to overcome future challenges."
"We are glad to be part of such a wonderful gathering and enriching dialogue between German participants and visitors not only from the Kingdom but also from other Gulf Cooperation Council (GCC) countries. The latter will undoubtedly enhance bilateral ties."
"As far as V-LINE is concerned, it has always been a trusted strategic partner of leading Saudi companies, adding value as a service provider in the fields of maintenance, repair and operations across several industries such as desalination, petrochemicals, energy, aluminum and steel."
"The moment our ambassador in Riyadh informed us that Germany received an invitation from the Ministry of the National Guard, the main organizer of the fest, we decided to participate in the festival to share our innovative ideas and expose our traditions under the theme "Germany-Land of Ideas: Innovation has tradition."
"Our focus is basically to show the similarities between the cultures in Saudi Arabia and Germany and we set tradition, family, and trust as the three main areas reflecting what is common among us," he added.
Commenting on visitors at their pavilion, he said that this is a very good opportunity to present our country to the people of Saudi Arabia.
"I personally found it amazing to see Saudi men and women coming to our pavilion in large numbers to discover common cultural and traditional links, to see German innovation and talk about values we cherish and which are well acknowledged globally," he noted.
Joined by Anas El Arras, V-LINE International Business Development Manager, during the interview, to comment on their presence and commitment especially in reference to the Nitaqat program to streamline Saudi labor market, they said, "we are committed to follow the Saudization guideline, in fact, we are among the first German medium size companies to be licensed by the Saudi Arabian General Investment Authority (SAGIA).
"We do not only try to fulfill Saudization criteria by hiring the required quota of Saudi youth under the Nitaqat program, but we also train them, and most importantly avail career development opportunities for them both in Saudi Arabia and Germany," the duo said.
"On the 7th and 8th of February, we have hold a two day workshop for Saudi women interested in working for V-LINE. We strongly believe that Saudi women are highly skilled and well educated. Hence, graduates of Saudi institutions such as Princess Nourah Bint Abdulrahman University, the largest university for women in the world, can add meaningful value."
In a reply to their working skills, they applauded the Saudi youth saying, "They are hard working and have a bright future ahead."
Both stated that German companies in Saudi Arabia do positively affect the image of Saudi Arabia abroad.
"When you come to the Kingdom and are exposed to Saudi lifestyle as the German delegation is experiencing at the Janadriyah 30, you realize that such an immersion into Saudi culture, is essential to bridging any gaps," they said.
For further information, please see following links:
https://www.youtube.com/watch?v=OV5ErboCEDA
http://www.arabnews.com/saudi-arabia/news/879296
http://english.alarabiya.net/en/webtv/reports/2016/02/08/How-Germany-jubilates-at-Janadriyah.html
About V-LINE
V-LINE EUROPE GmbH, founded in 1979, and headquartered near Hanover in Germany, has its primary MRO Supply Market operations in the Middle East, based in the Kingdom of Saudi Arabia, and other country customer service centers in GCC states, Mexico and Brazil. V-LINE sourcing and procurement centers in the USA, China, Japan and Korea offer industrial plants in all its markets an integrated set of services tailored to lowering their total procurement costs for foreign MRO parts while meeting the highest global standards of supply performance.
V-LINE service takes title to the plant MRO parts flow from order until delivery. V-LINE manages the flow of goods and procurement transactions using modern IT to link its computer systems with the computer systems of suppliers, logistics providers and the receiving customer plant.
V-LINE also offers a comprehensive set of additional MRO plant lifecycle services that provide global knowledge and data based plant management solutions to achieve Operational Excellence.
For more information visit www.v-line.com or phone EMEA:+49 (5138) 7008-0
USA : +1 (732) 919-0190, Japan: +81 (66) 675 3001, Korea: +82 (2) 4612701, Saudi Arabia: +966 (13) 3407940, Mexico:+52 (2222) 536396, Brazil:+55 (11) 66712958
Photos:
V-LINE EUROPE GmbH and
Muomen Adley, KSA