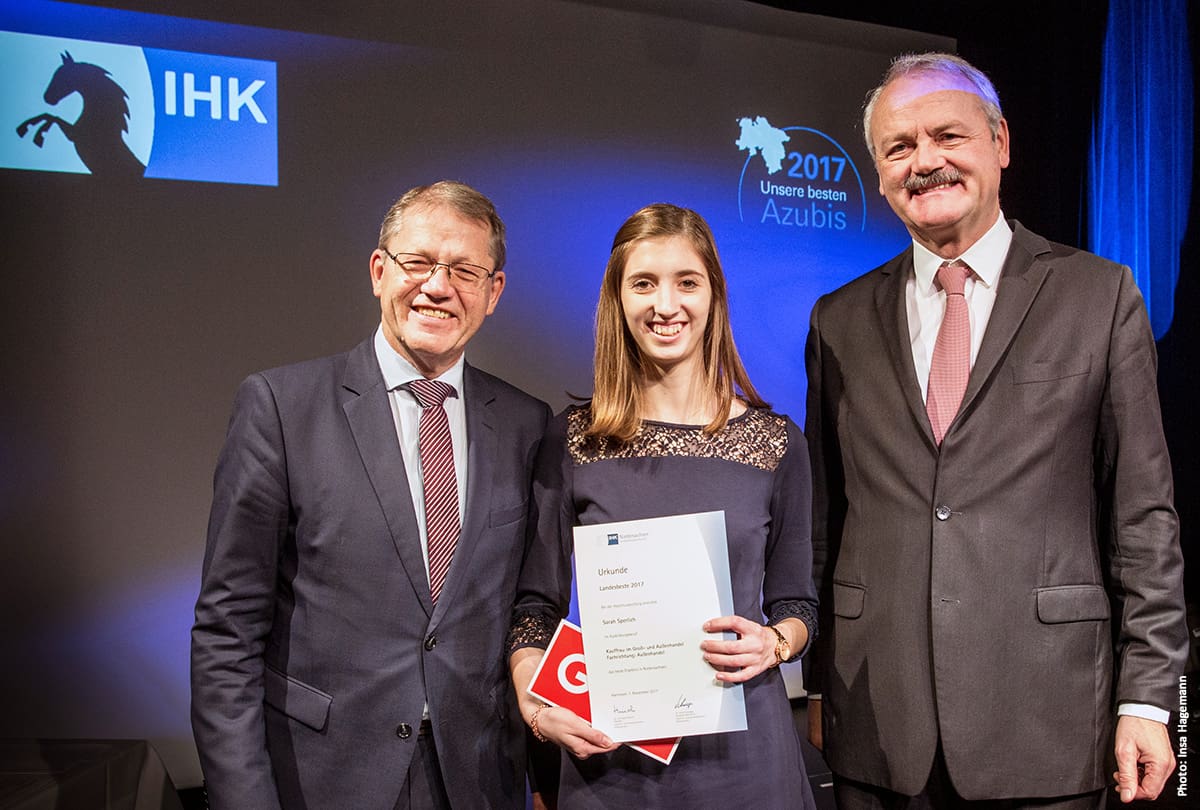 The Chamber of Industry and Commerce in Hanover honored V-LINE EUROPE apprentice Sarah Sperlich for the highest exam result in Lower Saxony in the profession category "Management Assistant in Wholesale and Foreign Trade (Focus on Foreign Trade)".
At the beginning of November, the Chamber of Industry and Commerce honored the top graduates in Lower Saxony in 2017. 34,300 apprentices took part in the trading or technical final examinations. 26 graduates completed their degree as "Best-in-their-Profession", including Mrs. Sperlich, an apprentice in Wholesale and Foreign Trade at V-LINE EUROPE.
V-LINE Vocational Training Manager Frauke Windhausen looks back on a successful period of time: "As a company providing vocational training, we attach a great importance to a solid foundation for the start into a professional career. During her two and a half year apprenticeship, Ms. Sperlich has gone through all departments of the company, thereby gaining a deep insight into the internal processes and structures. We are very pleased and proud that Mrs. Sperlich has completed her vocational training as the state winner."
The question of how to continue after the vocational training was quickly answered for the successful graduate. Ms. Sperlich moved straight into an employment contract with V-LINE EUROPE, explaining "I enjoyed working with international customers and the variety of tasks from the very beginning. When I was offered a job in the customer support of the logistics department, I didn't have to think twice."
Currently ten young people are training at V-LINE EUROPE in the professions of Wholesale and Foreign Trade, Warehouse Logistics and IT Specialist for System Integration. Starting this year, the company is also offering a dual study program in Business Administration. For 2018, V-LINE is still looking for apprentices for the Foreign Trade and Warehouse Logistics vocational training programs.
About V-LINE EUROPE:
Founded in 1979 and headquartered near Hannover in Germany, V-LINE offers a rich variety of solutions and services along end-to-end maintenance, repair, and operations supply chains for industrial plants – primarily in the Middle East, through its branch in Saudi Arabia, and also via its customer service centers in the United States of America, Mexico and Brazil.