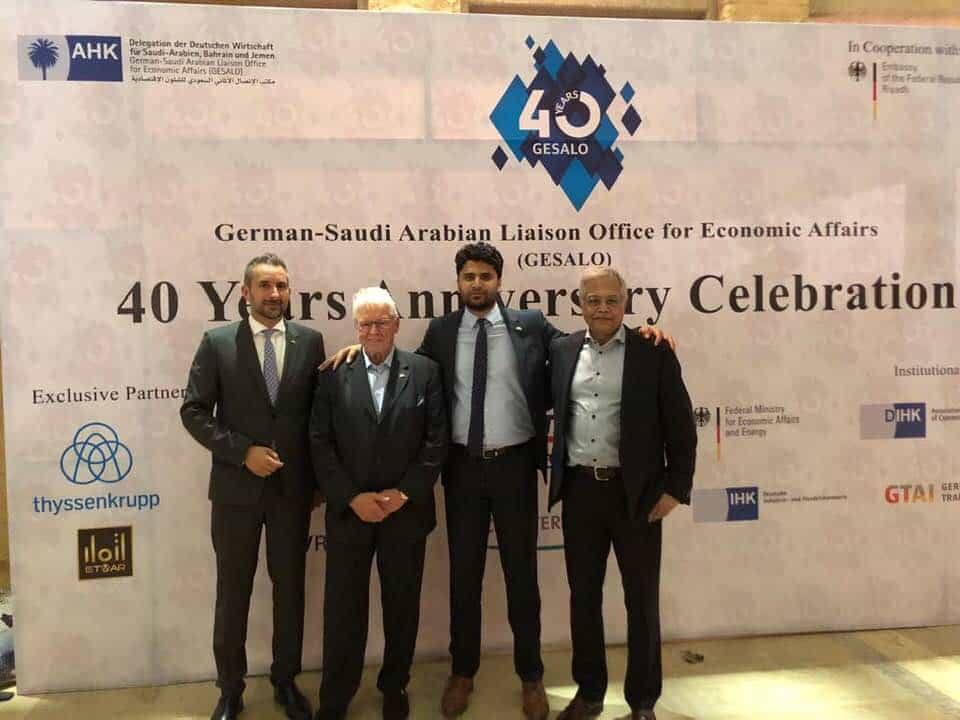 GESALO's 40th Anniversary Celebrations Stand for New Peak in German-Saudi Economic Relations
For 40 years, the German-Saudi Arabian Liaison Office for Economic Affairs (GESALO) has been officially representing German-Saudi business interests and is bridging between the two leading economies of Europe and the Middle East. On the occasion of its 40th anniversary, GESALO welcomed a high-ranking business delegation from Germany headed by Dr. Volker Treier, Deputy CEO of the Association of German Chambers of Commerce and Industry.
After a reception at the Consulate General of the Federal Republic of Germany in Jeddah on Monday, and a visitation of the new King Abdulaziz International Airport, the 23-head delegation met with senior board members of the Jeddah Chamber of Commerce and Industry on Tuesday. In order to expand further economic relations in the region, Dr. Treier announced the opening of a German Desk in the metropolis on the Red Sea. This third presence in the Kingdom – in addition to its headquarter in Riyadh and the German Desk in the Eastern Province – underlines the economic importance of Saudi Arabia for its long-standing partner Germany and further extends the global network of German Chambers of Commerce Abroad with its 140 locations in 92 countries nowadays.
In addition, GESALO celebrated the reception of its new license on Wednesday, handed over by Sultan B. Mofti, Deputy Governor of the Saudi Arabian General Investment Authority (SAGIA). "We are pleased an honoured to continue the already excellent cooperation with SAGIA – as we share so many interests", said Oliver Oehms, Delegate of German Industry and Commerce for Saudi Arabia, Bahrain and Yemen. At the same time, the MENA representatives of the German Chambers of Industry & Commerce of Berlin, Braunschweig, Frankfurt, Kassel, Freiburg, Karlsruhe and München and the CEO's of the German Chambers Abroad of the United Arab Emirates, Morocco and Algeria met in Riyadh to exchange views on current economic developments in the region as part of a one-day workshop. The delegation emphasized the positive effects of the Saudi Vision 2030 and praised the Kingdom for its achievements and developments. The following day they visited the joint venture of Obeikan and SIG Combibloc, as prime example a successful implementation of German-Saudi collaboration.
The final highlight of the three-days anniversary celebrations was the Gala Dinner held at the German Embassy. Welcomed by the hosts Mr. Oliver Oehms and H.E. Hans-Christian Freiherr von Reibnitz, Charge d'Affaires of the Embassy of the Federal Republic of Germany, 300 high-class representatives of the German-Saudi business community commemorated the past decades of bilateral economic ties in a festive atmosphere. "What a fantastic response to our delegation of 35 German business representatives. A truly memorable Anniversary!", summarised Oliver Oehms the three-day visit.
Source: German-Saudi Arabian Liaison Office for Economic Affairs