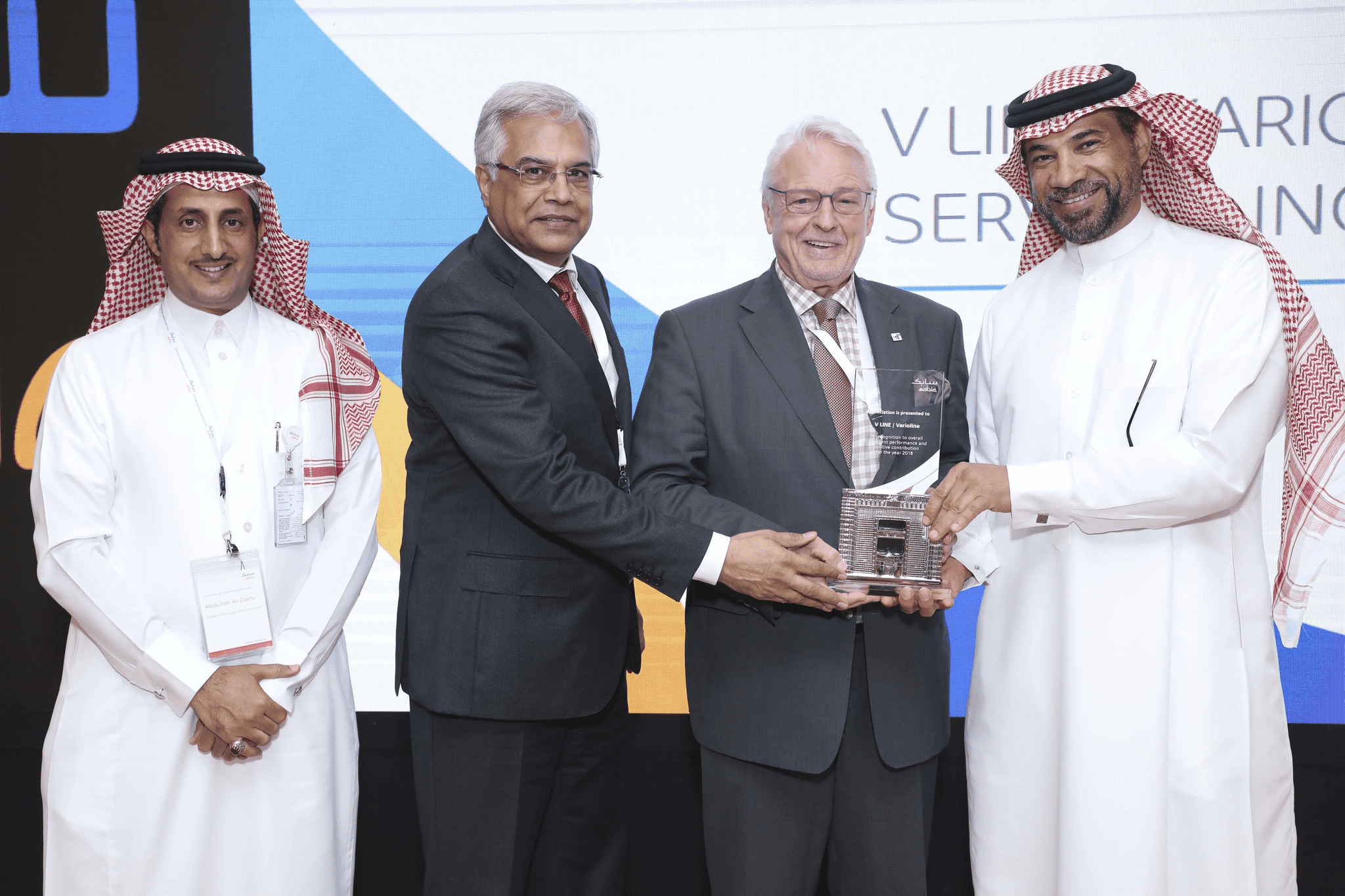 Next to receiving the SABIC supplier recognition, V-LINE is also named a strategic partner of SABIC
Al Jubail, April 4th, 2019. After nearly 10 years, SABIC revived the SABIC suppliers recognition event at the Sea Club, Dareen in Jubail Industrial City – and V-LINE was again part of it. Appreciated were the headquarter in Europe as well as the affiliates USA and Middle East. Owner and V-LINE GROUP CEO Detlef Daues, Middle East CEO Shahzad Haider and SABIC key account manager Suliman Al Gatai were invited to receive the honor.
In the opening speech, Mohammed Y. Al-Sagour, Director Global Suppliers and Material Management, emphasized the importance of consistent performance and positive contribution of their suppliers. He also promised that this 2018 recognition is only the beginning of an engaged supplier relationship management and its recognition.
On behalf of the foreign suppliers, Detlef Daues addressed the audience by giving a short overlook of 40 years SABIC and the V-LINE vision built on HRH Prince Mohammad Bin Salman Vision 2030. "The transfer of knowledge about the supply chain for international MRO supply to the Kingdom and the localization of services and manufacturing is part of the V-LINE duty. This can be achieved by evaluating past and future data on all levels", Daues said. "Cost drivers in this environment should become cost centers while intelligently listening to the plant sensors and the manufacturing data." V-LINE is today representing more than 3000 international suppliers; thus it has an essential role in this transformation. Awadh M Al Maker, the Executive Vice President Shared Service, outlined the SABIC strategic supplier concept and agreed in his speech to Detlef Daues' theme "The new oil is data" and invited all suppliers to make real changes happening.
In a follow up meeting with the Global Procurement Services a few days later, the V-LINE Group was named a strategic partner from SABIC. Several initiatives have been agreed upon, mixed teams nominated and the next quarter agenda approved. "I am delighted about the newly strengthened relationship as a strategic partner", said Shahzad Haider, CEO of V-LINE ME, "and I will guarantee the willingness of success of our team."