V-LINE is featured in the latest issue of GESALO Magazine. The interview with Niklas Rosocha and Hasnain Jamil explains how V-LINE is dealing with the Corona pandemic crisis.
The following text is identical to the article that was published in the May issue of GESALO magazine. It can be found on pages 34-35 when clicking here.
The COVID-19 outbreak has disrupted lives, livelihoods, communities and businesses worldwide. The pandemic not only affects our daily lives until today but also has an impact on businesses and supply chains. Many companies reported supply chain disruptions in some capacity due to coronavirus-related transportation or supply chain restrictions, and more than 80 percent believe that their organization will experience some impact because of COVID-19 disruptions. The V-LINE GROUP, global leader in MRO (Maintenance, Repair and Operations) supply, thus founded the global task force "Supply Chain Transparency" at the beginning of the pandemic to minimize the risks for its customers and achieve full transparency. We spoke with Niklas Rosocha, Process Quality Manager and Head of the task force, and Hasnain Jamil, CEO of V-LINE MIDDLE EAST, on how the COVID-19 pandemic was approached at V-LINE and which steps were taken.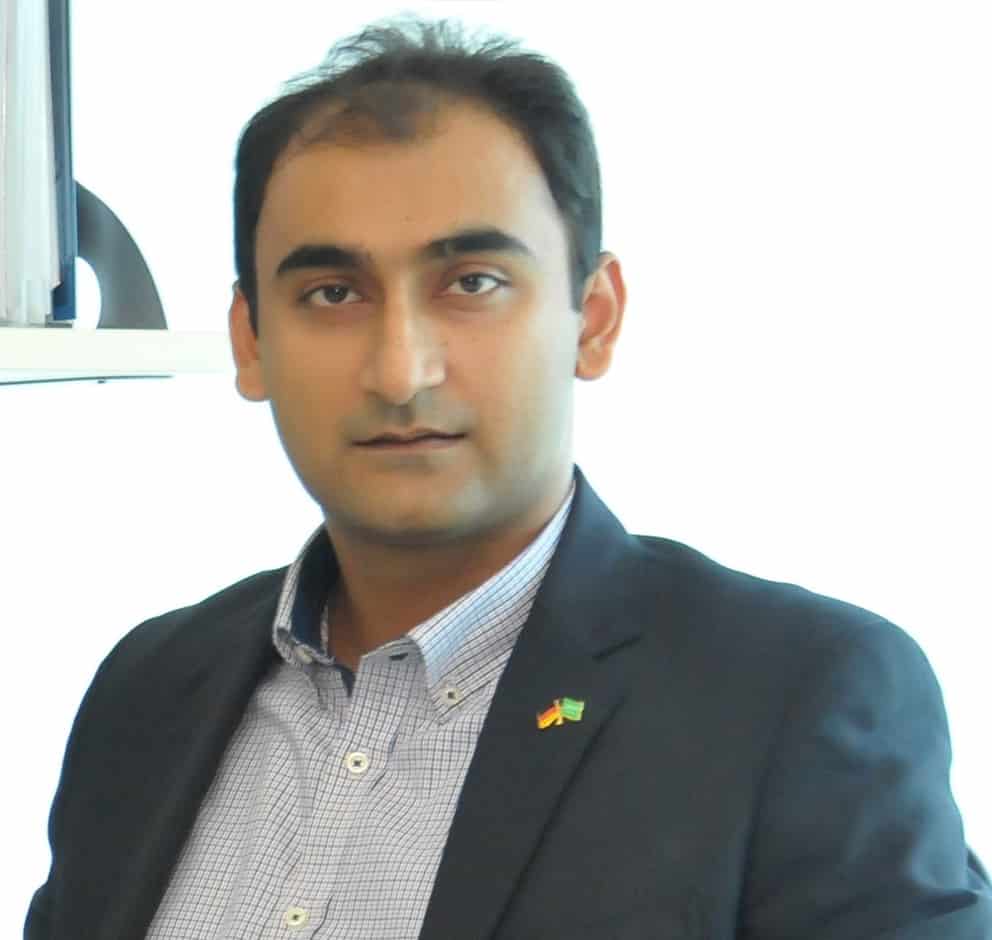 Hasnain Jamil, CEO of V-LINE MIDDLE EAST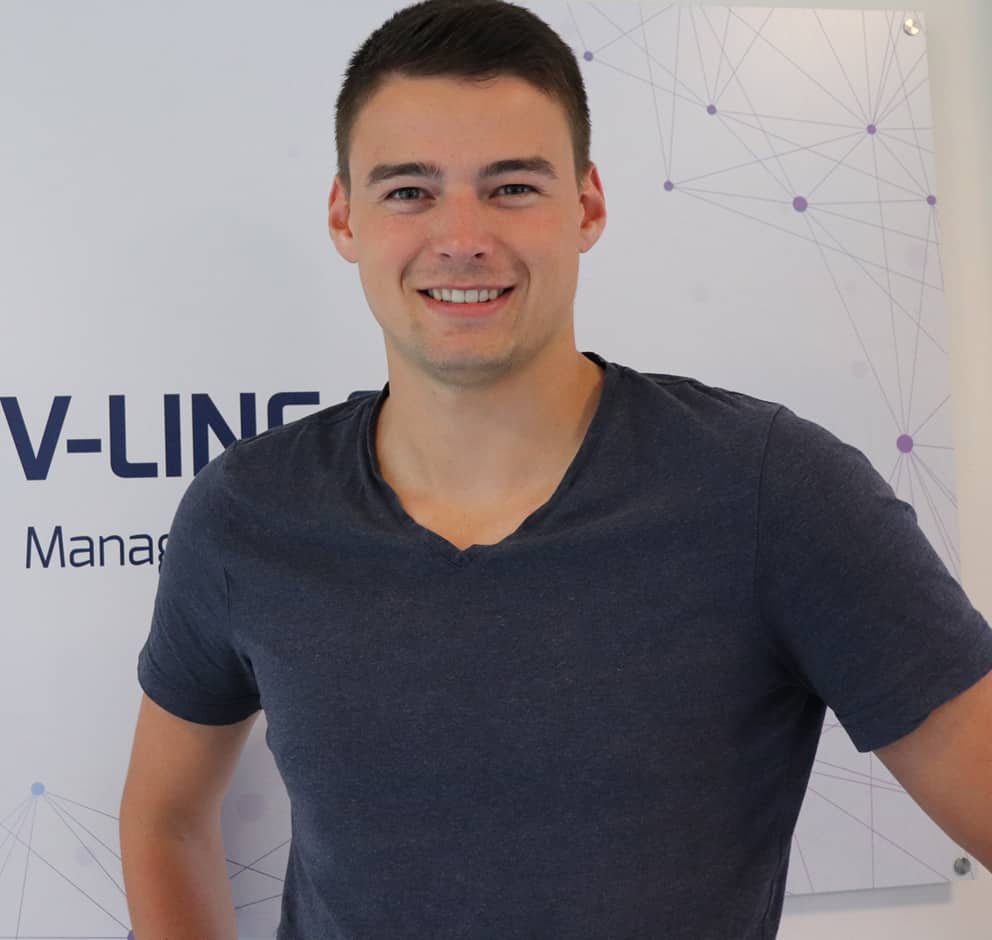 Niklas Rosocha, Process Quality Manager and Head of task force "Supply Chain Transparency"
Q: Niklas, the task force was founded some weeks ago. Which were the first steps you took?
Niklas Rosocha: Our first goal was to achieve a general overview on the situation in a quick manner. We needed to sort all the information coming in and evaluate it to assess how our customers can take value out of it. Accordingly, it was clear that the task force had to consist of the key account managers globally. To gain full transparency on both our and on the customer's side, we then decided on further measures.
Q: Can you name some?
Niklas: I want to emphasize two main measures we took to reach the next level of transparency. After having sorted the information and having set it in relation, we were able to allocate which information was available to us and which was still missing, meaning which orders, parts and suppliers and thus which customers were affected. To obtain the missing pieces of information, e.g. of suppliers we haven't received a message yet, we coordinated a cross-departmental group that phoned over 1000 suppliers all over the world to record the status of more than 4000 MRO items. The findings were entered into our system to create transparency along the whole supply chain for our customers. We set up a base of information and now are able to update it whenever necessary. For example, if a supplier mentioned that his business opens again on May 3, we will again phone him on that day to stay up to date.
Q: That sounds extensive.  
Niklas: At the same time, we took a measure to pass this gained transparency on to our customers: We adapted our reporting for them. Every day we systematically evaluate how the situation in our supply chain is changing. In this way, we want to identify developments as early as possible in order to be able to react quickly. We made these status reports for open positions available for all of our customers globally and included all the findings we gathered, e.g. if the goods are affected by the current situation, where they come from or if there are new delivery dates. We decided to adapt the reports we had already created before the pandemic, so the customer has as little effort as possible and can quickly scan if his orders are affected. Of course, if a part has priority, the customer can contact us, so we can take the next steps.
Hasnain Jamil: For this, and for any other problem that might occur to our customers, we shared the task force contacts with them, so they can reach us at any time. We have the vision to focus on three main aspects: Communication, Transparency and Supply Chain Reliability. As Niklas described, we are in close contact with our customers to master early bottlenecks and adopt to new lead times to minimize disruption. As a next step, we are working more closely on the reliability where we are also trying to find alternatives if necessary and introduce new products previously ordered or that are to be shipped from already closed markets.
Niklas: We also launched a news ticker on our website that we update constantly with all V-LINE related developments. Furthermore, we are looking for counter parts at our customers to contact them and find quick solutions if necessary. This could be someone who is also head of a supply chain task force or the procurement manager for example.
Q: It looks like you are organizing and implementing a lot in all directions to keep the transparency high. Let's have a look at V-LINE itself. How do you cope with the situation?
Hasnain: We assessed the circumstances, defined our responsibilities and work towards our major stakeholders in the business. Next to our customers and shareholders, as already mentioned, these are our employees and the society. V-LINE is committed to maintain the safety and wellbeing of its employees and their families. We introduced strict guidelines, in line with the directives issued by the government and health organizations to prevent the spread of disease. We also took precautionary measures following the "social distancing" scenario by introducing the Work from Home setup. All employees were equipped with the necessary tools to stay and work from home with full virtual contact. V-LINE MIDDLE EAST, e.g., is completely working from home now and we only achieved this by focusing on three major aspects: Communication, Communication and Communication. The same happened for our other locations in Germany and the US. Our employees there also work from home and we keep each other up to date with virtual meetings.
Niklas: We as V-LINE also want to take something positive out of this crisis. Upcoming tasks are assessed and coordinated by the task force. And even beyond this tough time, we want to translate learnings into our processes, so they can be more efficient and optimized, hence, we can even create more transparency to our customers when the crisis is over.
Hasnain: We as V-LINE leaders appreciate the teamwork and efforts of the employees and the task force. They work remotely with full dedication, passion and ownership exactly in line with the core values of the V-LINE GROUP and trust in being a reliable procurement service provider for the customers of the Kingdom of Saudi Arabia.
Q: Thanks for your time and insights.
Author:
Janine Katzwinkel is Marketing & PR Coordinator at V-LINE EUROPE GmbH.