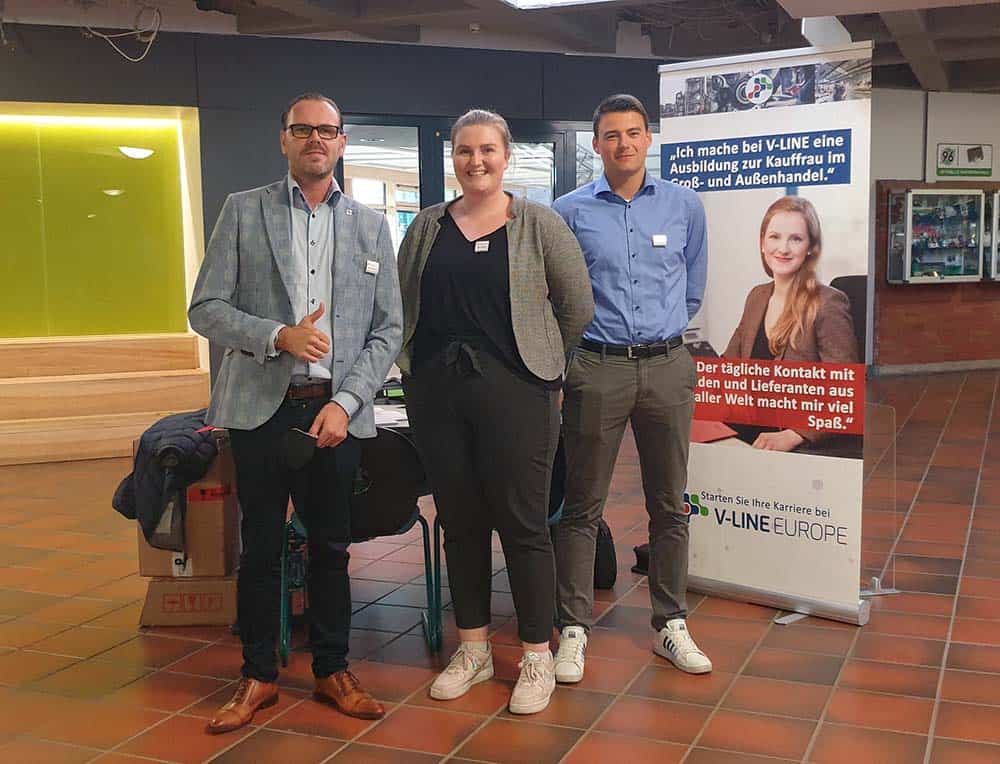 One stage, five companies, 15 minutes: This was the setting of the public event "Zukunftsbühne Sehnde" (eng.: Future Stage) where V-LINE EUROPE was given the opportunity to present itself to a local but broad audience.
Although Sehnde offers a wide and attractive range of apprenticeships and dual study programs, many potential applicants are not even aware of the abundance and diversity of Sehnde's corporate landscape. Therefore, the city of Sehnde in cooperation with proregio (association that supports vocational training locally) has offered V-LINE EUROPE and four other companies a stage, the "Zukunftsbühne", to increase their level of awareness.
V-LINE EUROPE is by no means a new company in Sehnde: The current location has been used by V-LINE since 1984. Nevertheless, the company is unknown to many in Sehnde. In order to increase awareness, promote V-LINE as a local employer and to advertise career opportunities, V-LINE EUROPE took the chance to present itself and all career chances – from apprenticeships to job options – during the event. Arne Hartmann, Director of Global HR, Niklas Rosocha, Team Leader Logistics, and Rieke Bonde, apprentice, represented V-LINE on the "Zukunftsbühne Sehnde" Tuesday evening.
"As a medium-sized company, located in the industrial area of Sehnde, it was a great opportunity to present ourselves to the local audience," says Arne Hartman. "The biggest challenge of the evening was to present our company as a local employer and our complex business concept to a very broad audience with different backgrounds in just 15 minutes." Niklas Rosocha, who in his more than 6 years with V-LINE has made his way from trainee to team leader, explains: "I think it is very important to emphasize the value of a good apprenticeship at such events and therefore appreciate the personal contact with potential applicants."
After the presentations, the event ended with small booths of the participating companies. "For us, this evening was a complete success. It was also great to participate in an event of this kind again after more than a year of digital events," Hartmann sums up.
Picture (from left): Arne Hartmann, Rieke Bonde and Niklas Rosocha. All persons seen on this picture tested negative for Covid-19 in advance.