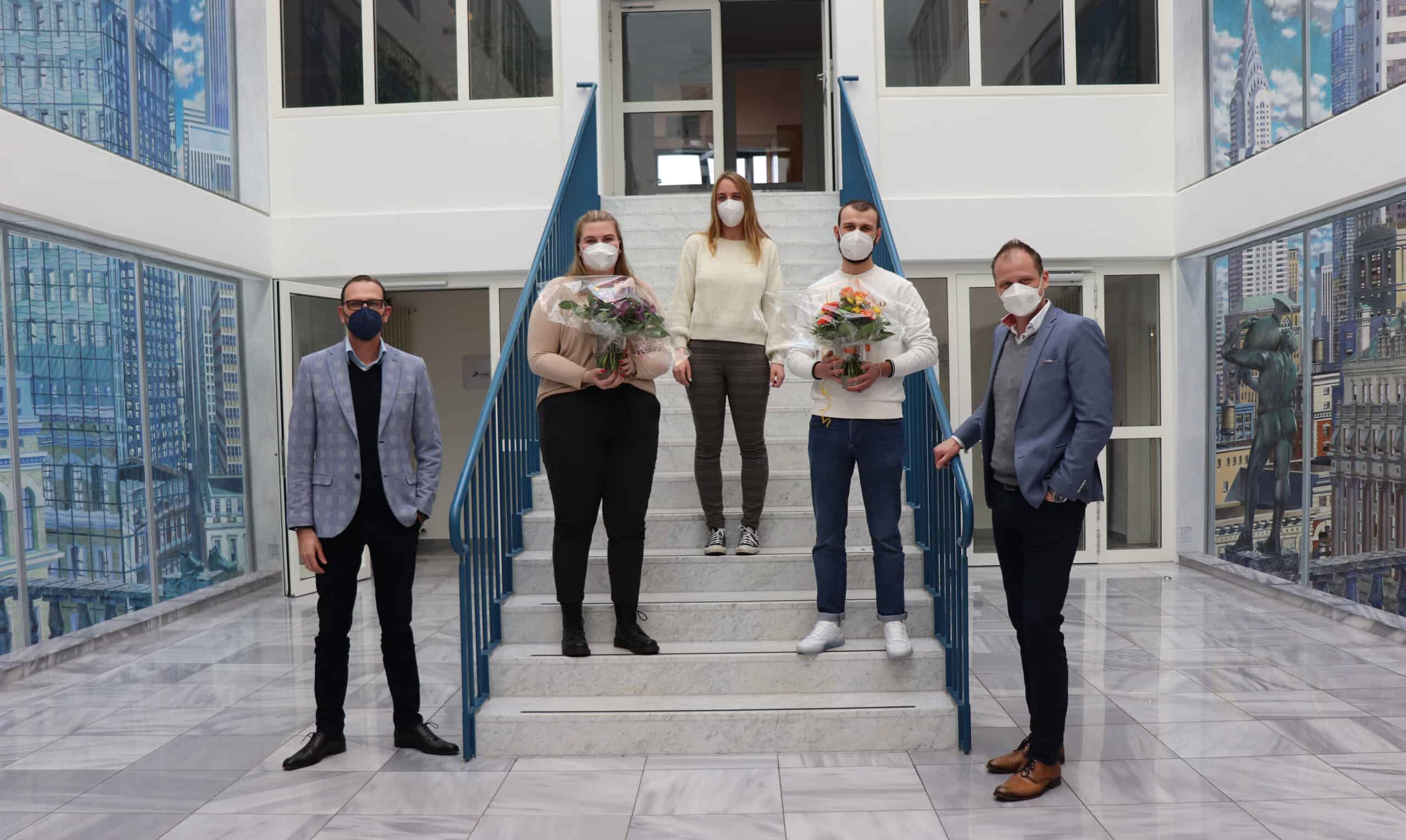 Flowers and gratulations from Justine Thomas, HR Generalist | Administration & Apprenticeship, Tilman Mieseler, CEO of V-LINE EUROPE GmbH, and Arne Hartmann, Director of Global HR at V-LINE EUROPE GmbH, for the apprentices in wholesale and foreign trade at V-LINE EUROPE.
"We are proud of our apprentices who have completed their training and are very pleased that they will both remain part of the V-LINE family," congratulates Tilman Mieseler, CEO of V-LINE EUROPE GmbH, the new full-time employees at V-LINE. The world's leading service provider for MRO spare parts procurement, headquartered in Sehnde, Germany, currently has more than 150 employees at its site and around 250 worldwide. Yesterday, one day after successfully passing their oral exam, the V-LINE trainees completed their apprenticeship in wholesale and foreign trade. "Congratulations to our now former trainees! I can vividly remember standing on those stairs myself, and therefore can relate deeply to our graduates", says Justine Thomas, former apprentice at V-LINE EUROPE and now responsible for the trainees. "The last two years have not been easy due to the pandemic, so I am even prouder of them not only for graduating but also for the 2.5 years of training at V-LINE. I look forward to following their further development and wish them all the best." Both graduates look back happily on their apprenticeships. "During our vocational training at V-LINE EUROPE, we were able to experience a lot. Whether it was getting to know our fellow trainees better or representing V-LINE in schools to recruit new apprentices," says Julien. Rieke agrees and adds: "Beyond that, a major highlight for me took place a few weeks before I officially started my apprenticeship in 2019: I attended the V-LINE anniversary celebration 30/40 and was directly thrown into the spirit, diversity and internationality of the V-LINE GROUP. Right from the start, I had the opportunity to get to know colleagues from all over the world – an evening I will never forget." V-LINE has been training new apprentices successfully for almost 20 years now and values an excellent apprenticeship. Therefore, V-LINE not only offers a wide range of insights into the tasks and responsibilities of different departments and qualified educators but will also continue to invest in apprentices further. Among other things, V-LINE fosters their language and communication skills with internal and external training courses or supports their international job rotation abroad. "With Rieke and Julien, we are happy to take on our own apprentices and thus ensuring and further developing our own quality standards. The biggest advantage of employing former apprentices is that they already know the company and the processes in detail and no longer need to be extensively introduced. They can now continue pursuing their career interests at V-LINE," says Arne Hartmann, Director of Global HR at V-LINE EUROPE GmbH. "After all, our trainees and dual students are our future and worth every investment."
V-LINE EUROPE also continues training new apprentices and has open spots available for new apprenticeships beginning in August 2022.
For further information on apprenticeship in wholesale and foreign trade and other training opportunities, please visit: Apprenticeship at V-LINE EUROPE
Picture (from left): Arne Hartmann, Rieke Bonde, Justine Thomas, Julien Kreft and Tilman Mieseler. All persons seen on this picture are fully vaccinated/recovered and tested negative for Covid-19 in advance. (Picture: V-LINE EUROPE GmbH)