Joint appearance at Hopfen & Happen is very successful
Just in time for the start of the season in one month V-LINE EUROPE presents itself again as premium partner of the American Football team Hildesheim Invaders. After the successful cooperation in the 2022 season, V-LINE and Invaders are now deepening their partnership. Arne Hartmann, Director of Global HR at V-LINE EUROPE, explains, "The first year of the partnership was very successful for us, as we were able to gain two new employees through the Invaders alone. We are therefore pleased to now be able to further expand and deepen our joint success." V-LINE will not only adorn the helmet with its logo, the purchasing service provider for spare parts will also be present in other areas – for example, in the Invaders' newly opened PopUp Store in downtown Hildesheim.
It was officially inaugurated this weekend at the Hopfen & Happen street food festival. In this context, there was also a first joint appearance of the Invaders and V-LINE EUROPE. "We want to inaugurate our store and are very happy about the support of the employees of V-LINE," said Johannes Krupp from the board of the Hildesheim Invaders. V-LINE distributed popcorn and balloons to the street food guests and Invaders fans and was very satisfied after the event: "With this partnership, we want to further expand our awareness as an employer in the region. We were also able to use this event very well for this purpose. Both popcorn and balloons went down very well and the crowds didn't stop until the end."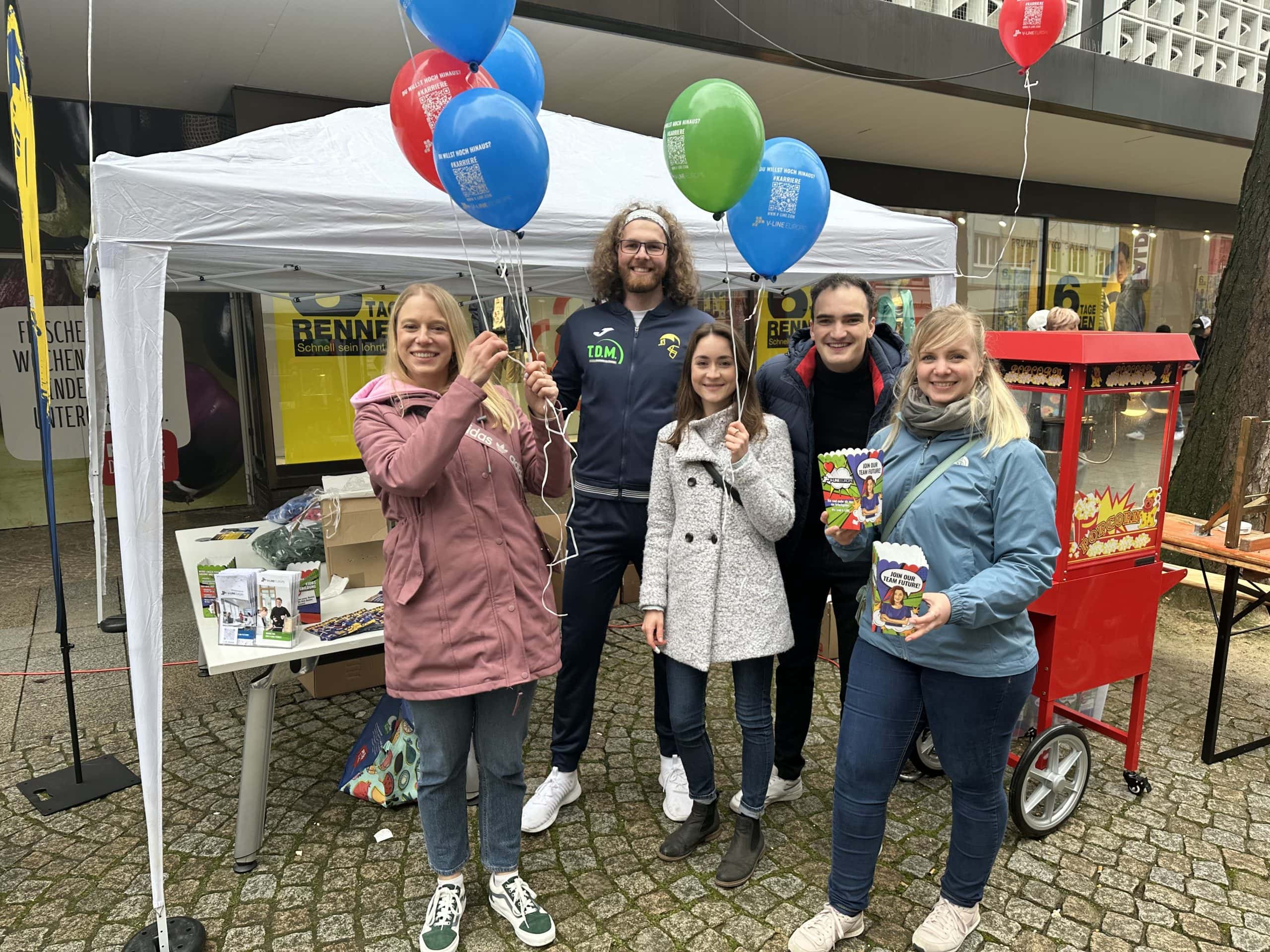 The Hopfen & Happen crew from V-LINE EUROPE (from left): Isabelle Hutschenreuter, Alexander Schwarz, Elena von Jan, Christopher Ritter, Janine Katzwinkel and Arne Hartmann (not pictured)
V-LINE has also prepared a great deal for the store. V-LINE has produced advertising films especially for this purpose, which will later also be shown on the video screen in the stadium. The main actors in the short films are Invaders players Alexander Schwarz and quarterback Nelson Hughes. Both work for V-LINE EUROPE and put on their game jerseys for the shoot.
Now everyone is looking forward to the start of the season: May 27 is the first game of the season, followed by the first home game on June 3 at Helios Field in Hildesheim.