// INVENTORY PLANNING & OPTIMIZATION

Like in any business, running low on stock negatively impacts your production, turnover and customer satisfaction. On the other hand, having too much stock puts unnecessary pressure on your cash flow. Spare parts usage is intermittent and unpredictable, and you're under constant pressure to keep Maintenance, Repair and Operations (MRO) inventory levels under control, while maintaining or improving service levels.
The success of ensuring any part can be instantly replaced is fundamental to the continual smooth-running of your business. Unfortunately, the unpredictability of intermittent spares makes it impossible to forecast using traditional methods. And that's where Inventory Planning and Optimization (IP&O) comes in.
Keeping your business flowing.
V-LINE has partnered with Smart Software Inc. who have developed a range of tools that take the guesswork out of inventory management and help keep your business flowing. Our inventory planning and optimization systems provide you with a minute-by-minute overview of stock levels, allowing you to reduce unnecessary and costly emergency transshipments while increasing parts availability. While your costs will sink, your cash will flow and the reporting and information our systems provide will help you better forecast parts usage for future scenarios.
Our integrated
applications.
The IP&O systems by Smart Software and V-LINE provide a single, scalable, collaborative environment with robust inventory and forecast modeling engineered for intermittently demanded spare parts. The platform offers 3 integrated applications:
IP&O optimizes drivers and forecasts that drive replenishment
Probabilistic forecasts for spare parts
What-If-Modeling predicts impacts to service and costs
Auto recalibrates policies as demand and lead times change
Secure and scalable web platform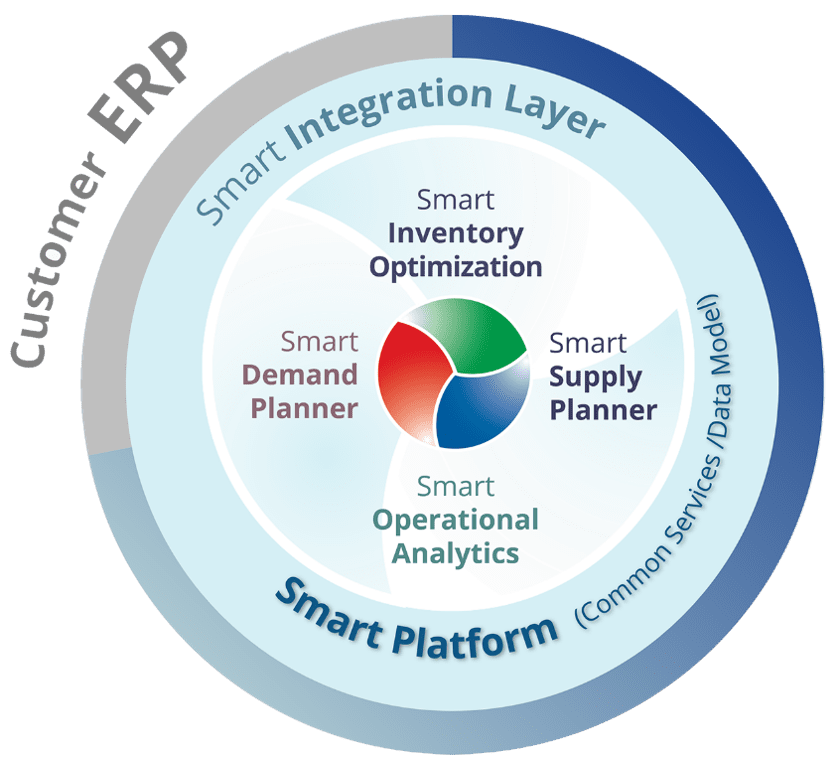 Software can forecast spares usage in relation to different variables like stock, service level, risk reduction etc.
Software integrates with your existing ERP and asset management systems
Cut inventory while still ensuring 99%+ service levels
You retain full control and can reduce risks
We provide full technical software support
We have been helping business such as yours for over 40 years but don't just take our word for it. Look at these case studies of other satisfied industrial companies:
Metro-North Railroad
The largest commuter railroad in the US, and Smart Software customer for over 10 years credits Smart IP&O for enabling it to reduce inventory by an additional $20 million during the Covid-19 pandemic, helping it free up vital cash flow.
KSA-based petrochemical plant
KSA-based petrochemical plant engaged V-LINE and Smart Software Inc. to assess potential cost savings. Results demonstrated the opportunity to increase overall parts availability from 86.2% to 99.7%, while reducing inventory by more than 50%, worth 2.4 million USD.
Related topics recommended by us: