Discover the future of MRO spare parts procurement now! Do you want to achieve significant cost savings? Are you looking for a professional solution to optimize your operations? Then you have come to the right place!
How do we achieve this? Here is a brief overview of the optimized processes:
Supplier communication: Instead of having to negotiate and communicate with many suppliers, you now only have one central contact.
Freight: Consolidated deliveries lead to lower transport costs and reduced CO2 emissions.
Organization: Coordinating and planning procurement becomes easier and more efficient because you only work with one supplier.
Finance: Simplified invoicing and payment processing save time and money.
Quality: We put special emphasis on sourcing the right spare parts and check them in our warehouse. As a result, we achieve low complaint rates and consequently ensure lower costs for you.
Through these optimizations we achieve maximum cost efficiency for you. Consolidation means: Higher quality and lower costs & effort through consolidated deliveries.
Benefit from our integrated service package
Experience the benefits of reduced overall procurement costs and the highest quality standards in spare parts procurement:
Worldwide delivery: We ensure the timely delivery of parts so that your supply is always secure, regardless of your location – whether in Europe, the Middle East or the Americas.
Customer-oriented models: Our contracts cover the entire process from ordering to delivery and are perfectly tailored to your requirements.
Modern information technology: We rely on technologies that enable smooth integration into any ERP system.
Rely on our integrated service package for spare parts procurement and optimize your processes today!
Reliable operation and reduced transaction costs
We ensure reliable operation by using original parts and minimize your transaction costs through automated processes.
Guaranteed lead times and consolidated deliveries
Efficient inventory levels: Benefit from guaranteed lead times and weekly consolidated deliveries to efficiently reduce your inventory levels and optimize your cost structure.
Long-term price agreements
Cost savings: Avoid high costs from spot-buying practices thanks to our unique, long-term price agreements with guaranteed lead times. These are based on a detailed analysis of your total spend and backed by industry-leading benchmarks and practices, giving you financial certainty and predictability.
Customized services and fees
Customization: We provide services and fees that are tailored to the needs and requirements of each client. This enables an optimal cost-benefit ratio, contributing to a significant increase in your competitiveness and business success.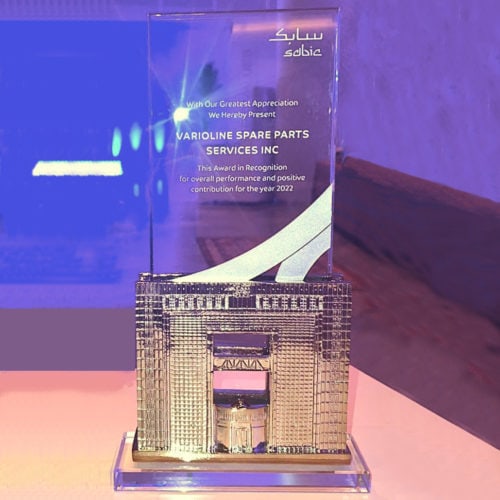 Excellent performance once again
We have been honored again with the prestigious Supplier Recognition Award by SABIC for our outstanding performance in 2022. This award is a proof to our commitment to delivering exceptional services to our clients and being a strategic partner.
This recognition not only highlights our success, but also benefits our customers, as they can trust us to provide them with the same high level of quality and commitment to excellence.
A single creditor solution for a specific part of your (overseas) MRO demand
Elimination of vendor management and multiple terms and conditions
Regulated compliance
Reduced cycle times
Sourcing of parts at the manufacturer of the original equipment, machines or parts
Negotiated vendor prices and guaranteed lead times
Long-term agreements with fixed prices (contracts) / cost plus services
One partner for the complete supply chain
Significant costs savings by benefiting from a dedicated spare parts procurement service
Reduction of indirect procurement costs
Reduced supplier base
Reduced transactional costs
Reduced logistic costs
Reduced resource costs (one partner)
Cost control due to long term agreements
Optimized resources and less burdens caused by managing spare parts supply
Related topics recommended by us: