Industrial plants' spare parts demand comprises a lifecycle of needs for initial, emergency and regular operating spare parts. Procurement of these parts has often been linked to high costs, inability to meet delivery dates, and failure to understand customer's strategic needs.
In a business atmosphere where pressure on spend rationalization is increasing, V-LINE offers industrial customers various possibilities for managing their procurement and end-to-end maintenance, repair and operations supply chains in cost effective ways.
Keeping your
spare parts moving.
We provide you with an integrated set of spare parts procurement services while constantly striving to lower total procurement costs and meeting the highest standards of quality assurance and ensuring a timely delivery of the parts. Whether you're based in Europe/DACH, the greater Middle-East region, or the Americas, all our models and contracts are customized to meet customers' requirements covering the entire flow from order until delivery using modern information technology compatible with any enterprise resources planning system.
Adding the kind of value that makes a real difference to you.
All our models are value based: a use of genuine parts to ensure specified operation, automation for minimal transaction costs, guaranteed lead times and weekly consolidated shipments for lower stocking levels. In order to reduce high costs driven by spot buying practices, customers have the unique opportunity to benefit from our longer-term price agreements with guaranteed lead times based on thorough assessment of overall spend backed with best-in class industry benchmarks and practice. Our unparalleled ability to tailor the services and fees to the needs and demands of each plant helps to achieve optimized cost-performance benefits.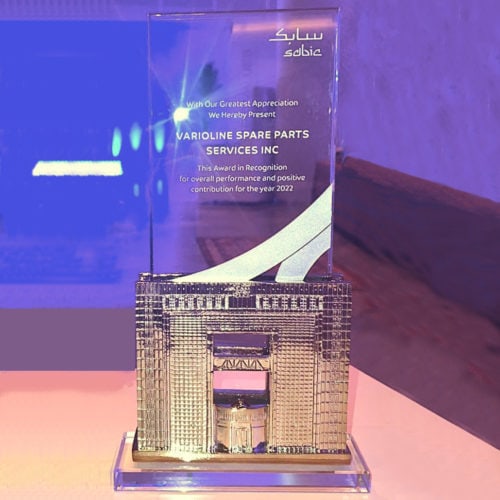 Excellent performance once again
We have been honored again with the prestigious Supplier Recognition Award by SABIC for our outstanding performance in 2022. This award is a proof to our commitment to delivering exceptional services to our clients and being a strategic partner.
This recognition not only highlights our success, but also benefits our customers, as they can trust us to provide them with the same high level of quality and commitment to excellence.
A single creditor solution for a specific part of your (overseas) MRO demand
Elimination of vendor management and multiple terms and conditions
Regulated compliance
Reduced cycle times
Sourcing of parts at the manufacturer of the original equipment, machines or parts
Negotiated vendor prices and guaranteed lead times
Long-term agreements with fixed prices (contracts) / cost plus services
One partner for the complete supply chain
Significant costs savings by benefiting from a dedicated spare parts procurement service
Reduction of indirect procurement costs
Reduced supplier base
Reduced transactional costs
Reduced logistic costs
Reduced resource costs (one partner)
Cost control due to long term agreements
Optimized resources and less burdens caused by managing spare parts supply
Related topics recommended by us: