Understanding where your business spends money is fundamental to keeping your costs and compliance under control. Tail spend traditionally goes unmanaged and is seen as the invisible weak link of spend management. It tends to be spread across a wide range of categories, includes a great deal of low value transactions and makes use of a large number of vendors. As it's also usually infrequent and of lower value, it often doesn't get noticed by procurement either. When you consider how these purchases account for only one-fifth of total spend but constitute the vast majority of its volume in terms of vendor and purchase order count, you can see why you have to get it under control.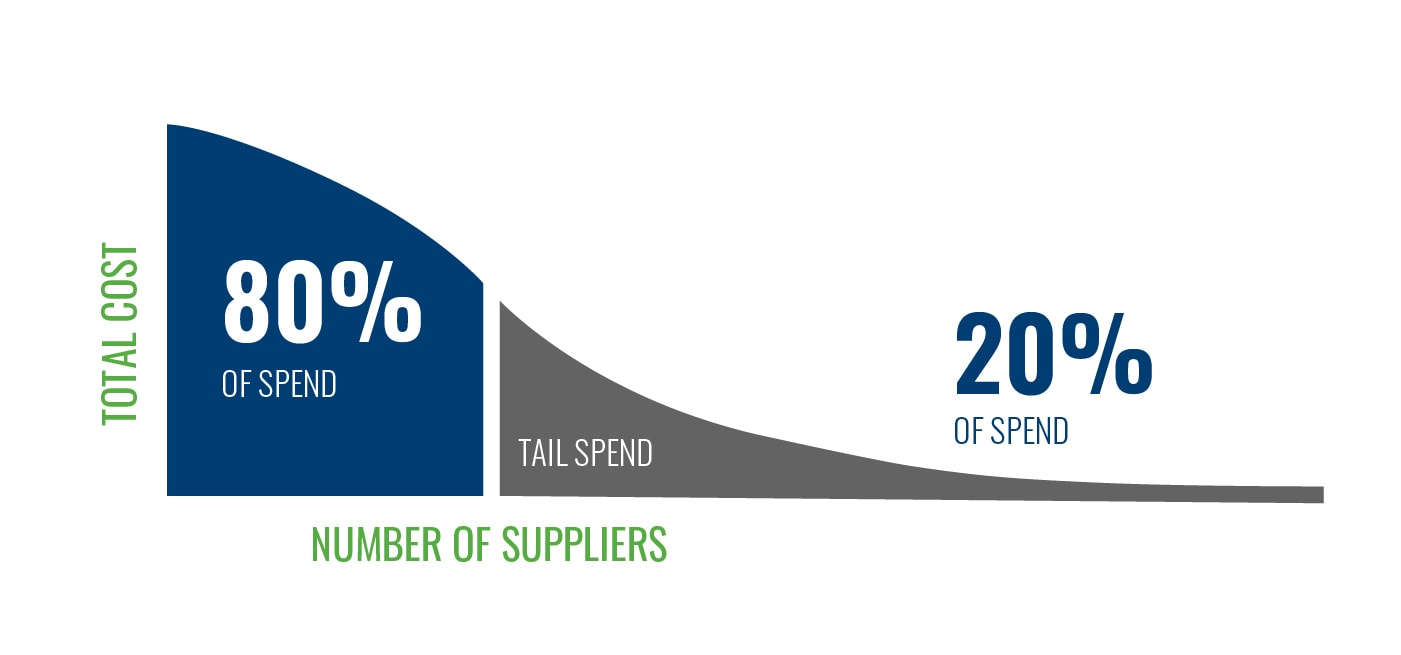 Greater transparency.

Greater compliance.

Increased savings.
The good news is that the more innovative solutions become available in the market, the easier it is to enhance tail spend management and transparency – and all without any increase in effort on your part. The potential P&L savings from improved tail spend management ranges from 5% to 20% of total spend in scope. This means first having to overcome issues such as poor data visibility, low volume, time sensitivity, unique (and often unstable) specifications as well as a lack of contracted vendors, a sea of non-compliance and the risk of maverick buying (buying outside contracts). These characteristics render traditional sourcing approaches ineffective.
Field-tested solutions that work.
In contrast to purely conceptual and theoretical frameworks, V-LINE has an approach that's iterative and leverages our industry-leading strategic sourcing and transaction management capabilities, plus proprietary tools. This approach implements proven, field-tested methodologies that deliver real, sustainable results based around our single-creditor model.
We offer insights into purchasing behavior, delivery conditions, expenses and savings. Thanks to periodic KPI reports with information at the order line level, the entire tail spend becomes transparent for our partners. V-LINE offers the option of taking care of invoice settlement as well as the entire sourcing process. And thanks to our purchasing volumes, you also benefit from favorable purchasing conditions including negotiated and reduced rates.
Already managed billions in tail spend for leading global enterprises
An unmatched track record of success, measured in hard savings
RFQ templates, sourcing methodologies and category best practices
Rapidly expanding global vendor database
Highly flexible e-catalogue platform
Unrivaled category expertise and transaction management capabilities
A single creditor replaces thousands of vendors (single-creditor solution)
Focus on key strategic vendors, avoid indirect, non-strategic purchases
Avoid one-off, ad-hoc maverick buying (non-contracted purchases)
Take advantage of favorable and negotiated purchase conditions and prices, avoid uncontrolled expenses
Replace several terms and conditions of numerous vendors through a single vendor with standardized terms, conditions and one payment term
Direct cost savings up to 21% as well as indirect cost savings, reducing the total cost of ownership
Better insight and reporting, offering complete transparency about what you are spending and where
Compliance assured and peace of mind that consistent quality will be guaranteed
Related topics recommended by us: